Greenwashing: Not all that shines is green.
April 18, 2022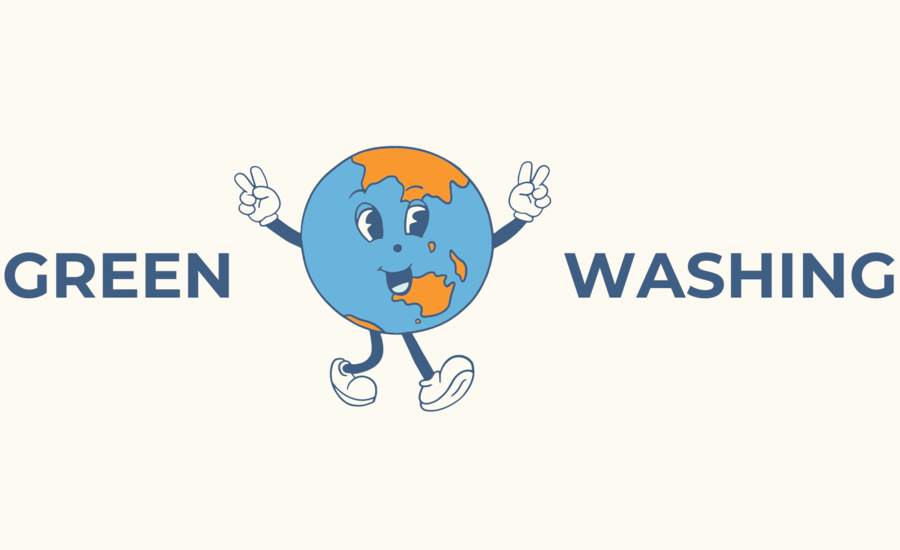 Greenwashing: Not all that shines is green.
The reason our shop exists is to simplify low-waste living for our community. There are two ways to choose low-waste: make it yourself or buy it. Making everything yourself is tedious and not everyone has that kind of time. Buying is convenient but complicated because it takes so much time and energy to make sure you are not succumbing to greenwashing.
Greenwashing: Products/services that fall into the deep cavern between labeling something as "good for the environment" and it actually being good for the environment.
Ex. 1: Coffee shops phasing out plastic straws and offering sip lids in the name of the ocean. But these new lids end up using more plastic than the old straw and lid combination.
Ex. 2: Fashion brands like Urban Outfitters, Forever 21 and H&M creating "sustainable" clothing lines. H&M's "Conscious" line, says, "Shop our selection of sustainable fashion pieces that make you both look and feel good." But, there is no regulation for terms like "sustainable," "green," or "environmentally-friendly."
Greenwashing is becoming more prevalent as brands big and small take on the now popular, "low-waste" or "sustainable" products and initiatives. Many businesses with the best of intentions end up greenwashing because they believe that offsetting is the answer or implement symbolic gestures that make little difference and can end up enabling further production of pollutants. Those that greenwash intentionally, spend more time consumed with pretending to save the planet than it would actually take to save the planet.
And so, we bring to you, the basics of how we move about the world as a low-waste business and tips for folks just trying to shop smart.
How we do the work:
We look for transparency from the companies we source from to ensure what they are preaching is truly what they are practicing. This general research begins with wanting to understand who they are as a company, their values, where they are located, how their materials are sourced and produced. If we can't find answers to these questions, we'll reach out and ask. 
Many of our questions are derived from the procurement criteria that we developed early on. It's essentially a checklist to guide us as we source and help us ensure any new product we bring in is aligned with our ethos. Here are some of our procurement criteria categories that guide us: 
Location, Location, Location 
When possible, sourcing locally is best to reduce our carbon footprint. We look to see if we can source within California, the West Coast, the North America and as a last resort, overseas. 
Plastic-Free + Sustainable Materials
We prioritize offerings that can be reused, or refilled before being recycled or composted. Our expectation for working with any business is that they have placed value in creating a product that is not only effective, durable and lasting, but have put systems in place for reuse, recycling, repurposing and avoiding the landfill at the end of that product's life. Bonus points for upcycled materials or products made with renewable resources! We require all our vendors to ship our packaged offerings plastic-free. When there is the occasional miss on our vendors' part, we work with them to assure they ship future deliveries to us without plastic.
Ethical Production
We do our best to dig into the work practices behind the production of the products we sell to avoid perpetuating a cycle of child labor, poor working conditions and unfair wages. As we continue to try to uncover more and more about the industries producing the products we sell, if at any point we learn of unsatisfactory conditions, we no longer use that product or work with that company.
Transparency in Ingredients
Every ingredient and material contained in the products we sell are disclosed and nothing is hidden from the customer. The brands we've partnered with are strongly committed to protecting the planet and our bodies by using cruelty-free, clean ingredients.
Equitable and Intersectional
Sustainable products can be expensive since everyone along the production line gets paid their fair share and ethical materials are inherently more costly. We try our hardest to keep our prices as affordable as we can make them. We strive to partner with a diverse range of fellow small businesses that are local, LGBTQIA+,  women-owned, and Black, Indigenous and/or People of Color-owned, whenever possible. There are absolutely gray areas, but we do our best to get all the facts and make the most informed decisions.
Tips for Consumers:
Do the Research: Ask questions. The market is becoming flooded with "green" and "sustainable" businesses. Companies may make claims about their sustainability efforts without sharing certifications or other evidence to back them up. Any claims without information to back it up, is a red flag.

Watch the Language: Look for proof to back up claims. If they make "sustainable" products, what makes them sustainable? How are they produced sustainably? Keep an eye out, if their proof is hard to understand or vague, that could be a sign that you need to inquire further or look elsewhere.

Choose Brands That Walk the Walk: What are their internal practices like? Do they give back? Do they educate their customers? Investigate their website. If the information is not readily available, it may be an oversight, but is likely a reason for concern. When you feel like you could use a little (or a lot) more proof, don't hesitate to reach out and ask the questions. Chances are, if they are legitimately making the effort, they will take the time to respond to your concerns. Plus, it lets them know that you really care.

Consider the Full Life Cycle of the Product: From production → individual use → end of life, is the product harmful to people or the planet? Think circular and always consider the entire trip the product will take in its lifetime.

Check for Third-Party Certifications: Look out for dependable certifications like 1% for the Planet, GOTS, B Corp, Fair Trade, or Cruelty-Free.
In summary, do your best, but put the pressure on the businesses and not so much on yourself. This can be a tough world to navigate and even coming as far as to learn a little more about how to judge a responsible purchase is a big 'ol step.