Meet the Trashgirls!
June 27, 2021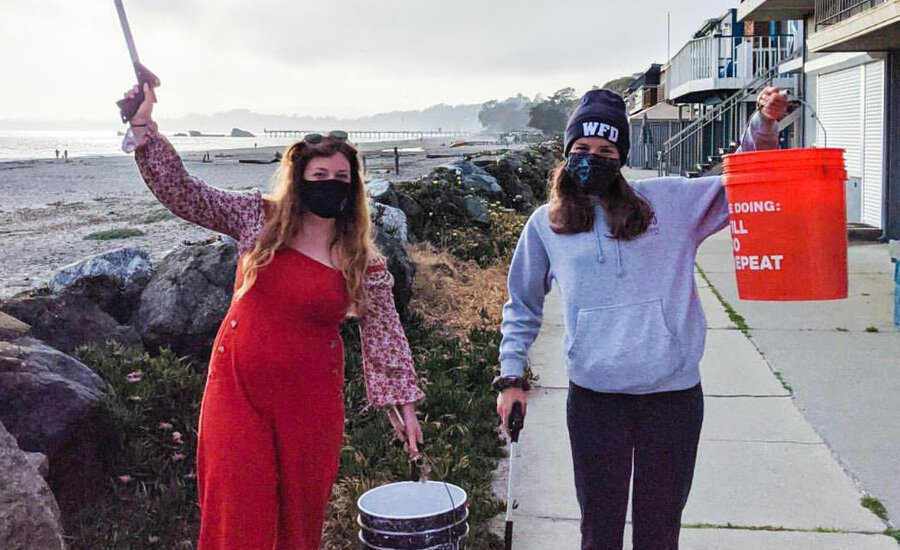 Hi!! We are the Trashgirls (@trashgirlzzz on Instagram), and we are so excited to share our story with the Ethos Community!! We are a couple of gals with a passion for trashin'! For the past three years, we have picked up trash together all over our local communities with the hope of encouraging others to stay bitter on litter.
Meet the Trashgirls

 
Ella Arnerich is a compassionate environmental nerd who is never afraid to speak her mind in the name of justice. Whether it is plastering Black Lives Matter posters around her La Selva Beach neighborhood or speaking up for her more soft spoken friends, Ella is a fierce advocate for the underrepresented voices in her life. She is a breakfast dessert connoisseur who loves soaking up the sunshine in her garden or hanging out with her wrinkly Frenchie pup named Toots. When Ella is not diligently sweeping the streets for microplastics, she works at a flower farm called Kitayama Brothers, putting her Bachelor's Degree in Environmental Studies to work. If Ella could have one superpower, it would be to harness her inner extrovert and use it to talk to flowers.  
Carly Kay is a fun-loving science communicator who will take any opportunity to crack a joke or crank up the stereo. She is a pun master who enjoys writing music on her porch with her golden retriever, Bliss, and shooting the breeze on a water break during hikes. Carly is especially talented at tying social and environmental issues into her song writing. She graduated with a degree in Communication and Science writing and is currently freelancing for a sustainable farming magazine called Upharvest Digest and interning for the Homeless Garden Project. If Carly could have a superpower, she'd choose the ability to transform litter into chocolate to share with friends.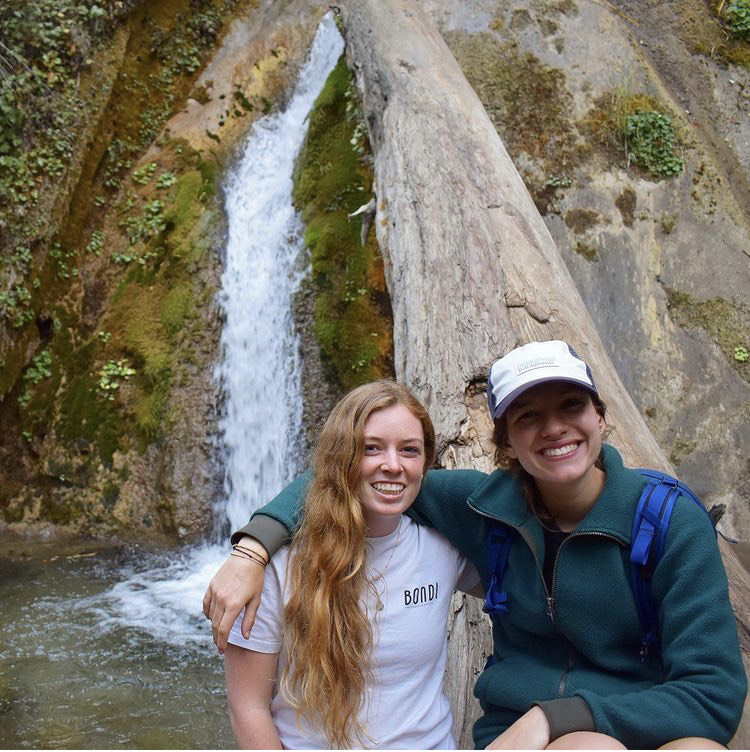 Trashgirls: An origin story
The Trashgirls were introduced by an unlikely unifier: birthday cake. In the first week of college at UCSB, Ella was turning 18 in an unknown land. Her mom (aka Trashmom) mailed an entire cake to her dorm knowing that she would be forced to share it and hopefully make friends. It worked. Ella and Carly met in their tiny communal dorm kitchen. While the flames of the birthday candles extinguished, another caught fire. From that point on, Carly and Ella were virtually inseparable, going on to live together for the next three years in the campus-adjacent town of Isla Vista.  
Isla Vista (IV) is not your average city. It is one square mile of beautiful dysfunction. Tucked neatly away in the Santa Barbara cliffside, IV radiates UCSB's work-hard-play-hard mentality. On the weekends, herds of scholars roam the streets looking to blow off some steam from a long week of studying. Twenty-eight thousand college students packed into a tiny oceanside cubicle is a magical elixir of euphoria and pandemonium that leads to two things—heaps of fun and heaps of trash.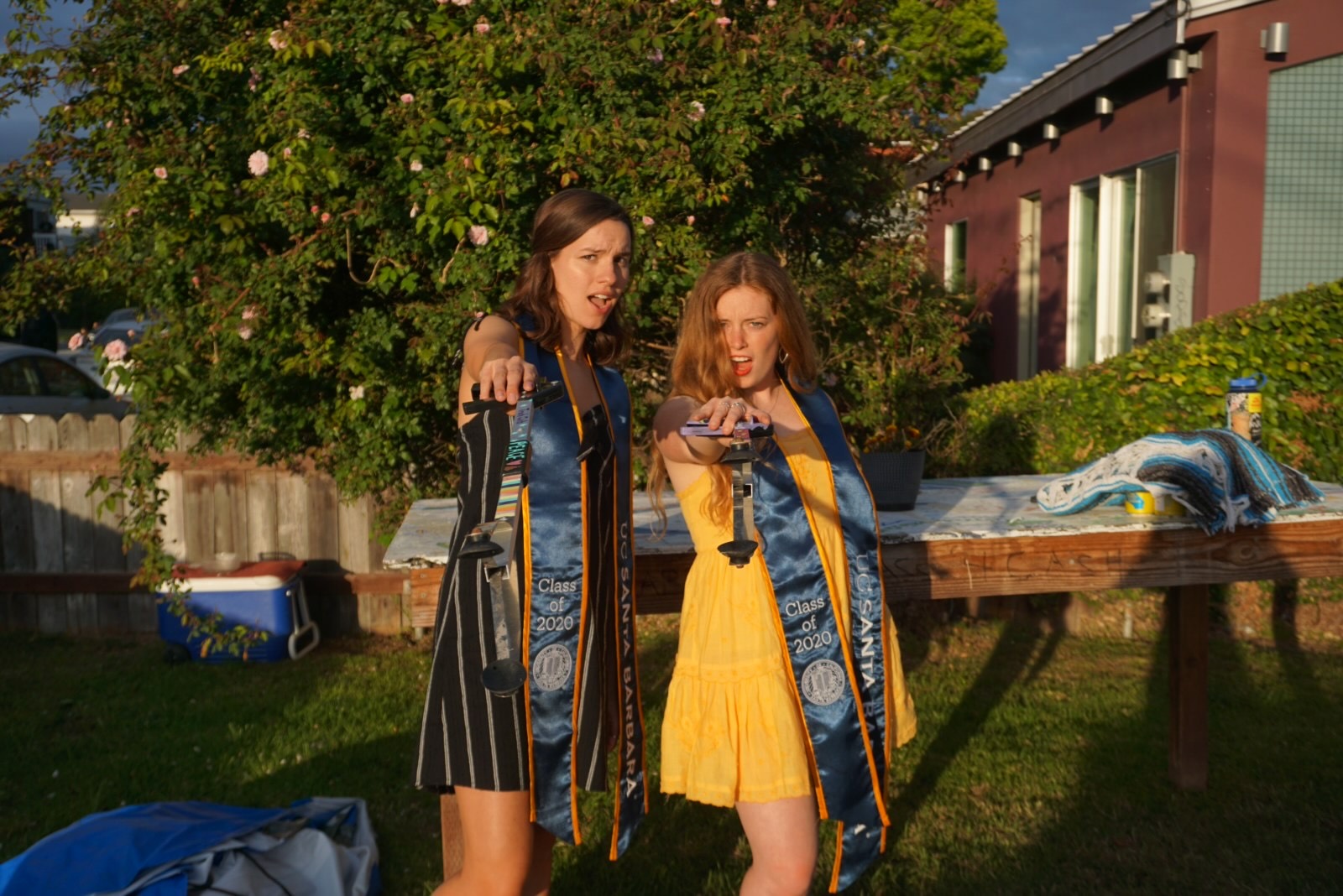 This accidental neglect of common spaces was not a foreign concept to Ella and Carly. After one late night sleepover-style conversation, the girls realized they shared a passion for trashing. Ella grew up spending the last days of her childhood summers clearing the leftover litter at her elementary school, while Carly racked in high school tradies from cleaning up the quad. As if being called upon by the Trash Gods, Ella and Carly knew it was time to take getting trashed in college to a whole new level. 
Like most good things, Trashgirls started as a joke. Most college kids got excited when they made the winning toss during a round of beer die. Carly and Ella got excited when they found their peer's beer bottles in a bush. It was ridiculous, and they knew it.
Fully embracing their nerdiness, they made an Instagram account to document their trash walks. Inspired by the badass creative human that is Courtney Reynolds (@napkinapocalypse on Instagram), Ella and Carly began posting about their trash findings. They were excited to have a platform for both making fun of themselves and raising awareness about litter. Picking up trash became an escape from the stresses of daily life. Finding anything from a mysterious flip phone to discarded undergarments, the girls would take to the streets whenever their schedules allowed it. 
Post-Grad Trash

 
The Trashgirls moved back to Santa Cruz County after graduation and continued to stay bitter on litter. Armed with trash grabbers, buckets, and the occasional Trashboy/Trashgirl apparel from @napkinapocalypse, they spend hours chatting and cleaning up their communities. Ella and Carly typically clean up anywhere from Capitola to Watsonville but will seize any opportunity to get down and dirty. Their trash spirit travels with them, and they often pick up trash while on vacation. Though they do not keep track, Ella and Carly estimate they completed a combined three to four hundred cleanups over the past three years. 
IV will always hold a special place in the Trashgirls' hearts. It was their favorite place to clean up because of the wide variety of trash types. They'd often find quality discarded mugs, which their housemates graciously allowed into their cabinet collection after a good sanitary boil. They loved to play games while picking. Calling out 'Butt!!" when stumbling upon a cigarette filter or "die up!!" when tossing a beer die into their buckets made the time fly. They feel fortunate to still live in the same region and continue their trashy antics.  
Why Trash?

 
With eight million metric tons of plastic entering the ocean each year, the plastic pollution problem feels overwhelming. But the Trashgirls feel optimistic that a cultural shift is on the horizon. The answer to the pollution problem is complex. However, with the right combination of local and systemic change, anything is possible. Ella and Carly feel that people littering is inevitable. They think the most impactful change will occur with fewer single use plastics being manufactured. The low-waste movement is essential to seeing that happen (go off Ethos!!)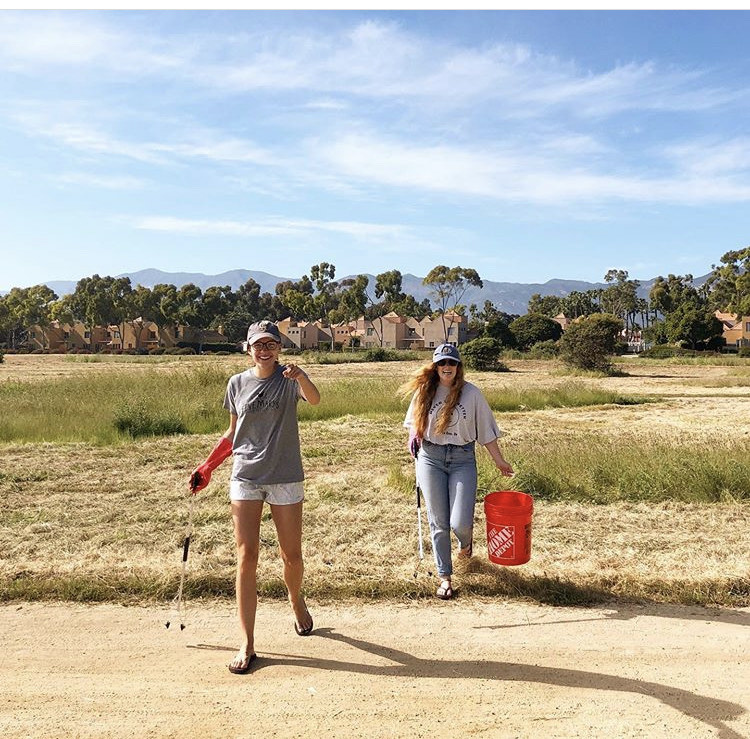 At the local level, normalizing cleaning up your own community is a great start. Ella and Carly endlessly are met with perplexed community members when they pick up trash. "Are you girls just doing this… for FUN?" Yes. They do it just for fun. But, it is more than that. Through their trashpicking journey they were able to inspire friends and family to start doing the same in other communities. They both learned how to care for their home towns from a young age, which has transformed into environmental action in adulthood. They hope you can join them in the fight to stay bitter on litter. Because one small act can go a long way!