Just because you're a low-waste geek like us, doesn't mean you necessarily like a naked face. And this is an especially challenging area of life to reduce plastic. For a lot of us, it's the last thing in our bathrooms that isn't low-waste. According to
Zero Waste Europe
, the beauty industry creates
120 billion units of packaging
globally every year, most of which cannot or will not see another life as a new product. So we did what all of you have done. Start trying products that hit all the marks:
Plastic-free, earth-friendly, people-friendly, clean ingredients, durable products that make us feel good. Some companies try their best to create quality products in minimal packaging, but at the loss of high quality, day-long wear.
In walks
Elate Cosmetics
with their
B CORP
-style solutions to our problems.
Ethical and fair trade:
Elate chooses ethics over ease and prioritizes people and the planet. 
Sustainable and low-waste:
697,270 plastic packages have been kept out of landfills with their refillable products, 157,528 gardens have been grown from their seed paper packaging, and over 15,000 trees have been planted -- every order plants a tree! 
B CORP certified:
Elate meets the highest verified standards of social and environmental performance, transparency and accountability. In 2020 alone, Elate  donated over $27,000 to social and environmental organizations.
100% vegan and cruelty free
Clean ingredients: Ingredients that nourish your skin, so you don't have to worry if you sleep with makeup on accident (lol) !
Elate's
palettes
have a magnetic lining for a customizable, refillable makeup kit that allows you to choose exactly what you want in your daily makeup ritual and leave nothing to waste in your makeup bag. But wait, it gets better. When you finish a tin of your favorite product, you put the aluminum in the recycling bin and purchase  a new, fresh tin, protected in plantable seed packaging - so even THAT gets a new life.
This is a company that knows where they stand and constantly works to be their best selves. Solving the most challenging packaging problems by finding creative solutions that minimize plastic. Elate is constantly working to improve their packaging and eliminate plastic waste.
We <3 Elate. They do the most for us low-wasters and for Mama Earth too. All of the Elate products we carry give an easy application, strong but natural colors and long-lasting wear. Spend a morning at the mirror with Sara and Meredith as we walk through their makeup routines!
Sara's Morning Ritual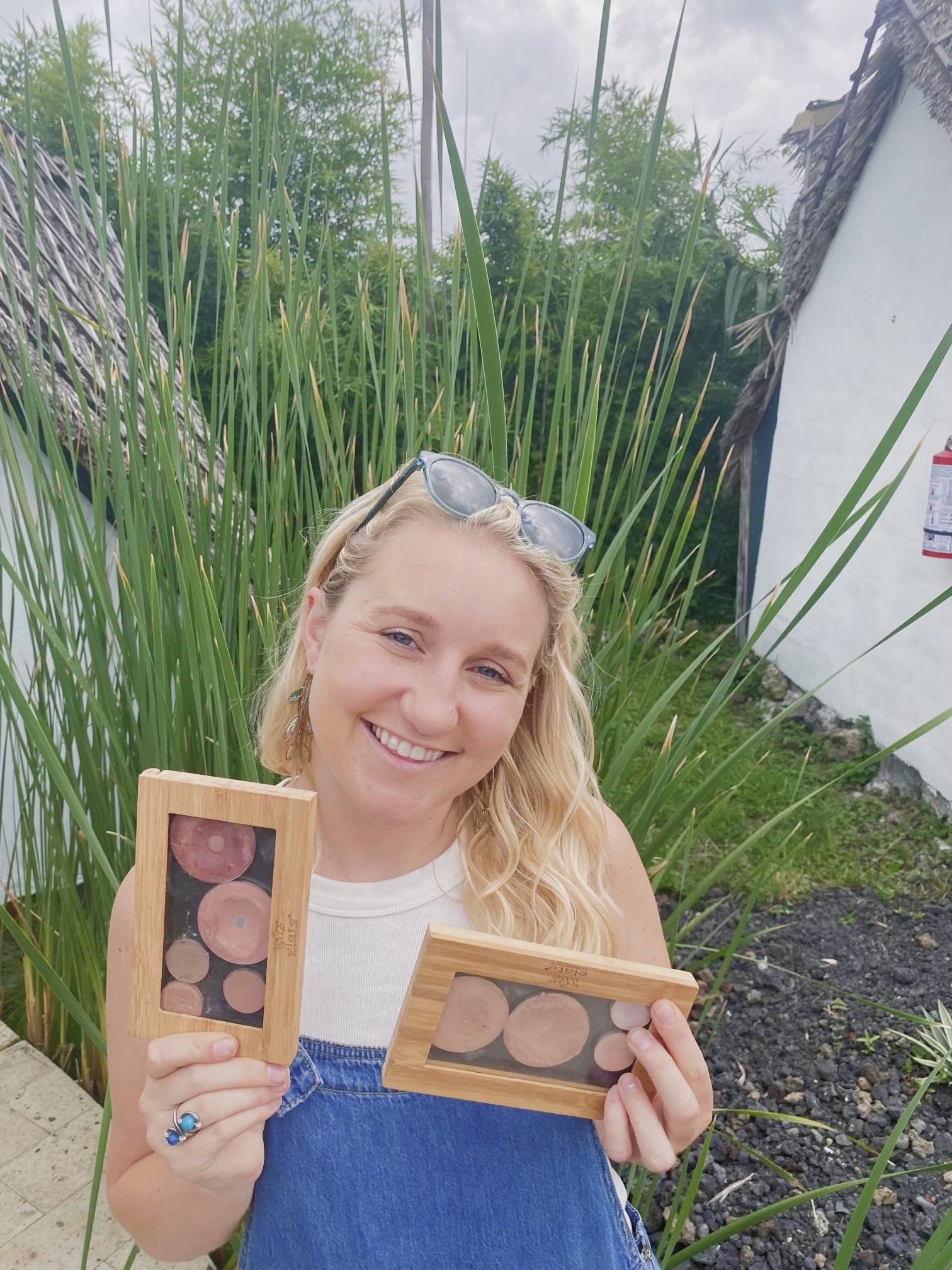 After my skincare routine, I usually prefer a minimal and natural everyday makeup look. Less is more for me in my makeup routine, especially since I am on the go a lot. It's important I have products that are simple to use and multi-use for my dewy, glowing look.
Foundation: I start off with the Uplift Foundation. I put some on my fingers, dab some dots all around my face and then go in with the multi-use brush. I love this one because it has a creamy buildable application, meaning I can use as little or as much as I want depending on the coverage I am looking for. It gives me a semi-matte finish without looking like I have a bunch of makeup caked on.
Blush/Highlighter
: To get the dewy look, my absolute favorite product is the Universal Creme. I use it for my  lips, cheeks AND eyes. My favorite is Wonder, for a nice highlighter on my cheek, nose and eyes. I'll then use a darker shade like Keen to give myself some color/blush on my cheeks. I use my fingers to dab it on and then use the multi-use brush to blend it in, so easy! 
Eyes
:
Mascara
, of course. Love this one. On days I want a little more of a lewk, I'll do some eyeshadow and eyeliner. Soar and Ethereal are my favorite
eye color shades
right now. I usually use my fingers for application or the Eye Brush. I'll then go in with the
Brown Eyeliner
Pencil to keep that natural look going strong.
Brows: If I am feeling extra, I'll go in with a brow balm using the brow brush to apply. The shade we offer is perfect for my light brows.
That's it! Takes me all but 5 mins! I used to stress about doing my makeup since I wasn't any good at it, but now it's become a fun routine I get excited to do. Thanks Elate for making approachable, sustainable makeup products that are not only good for my skin but the planet too!
Meredith's Morning Ritual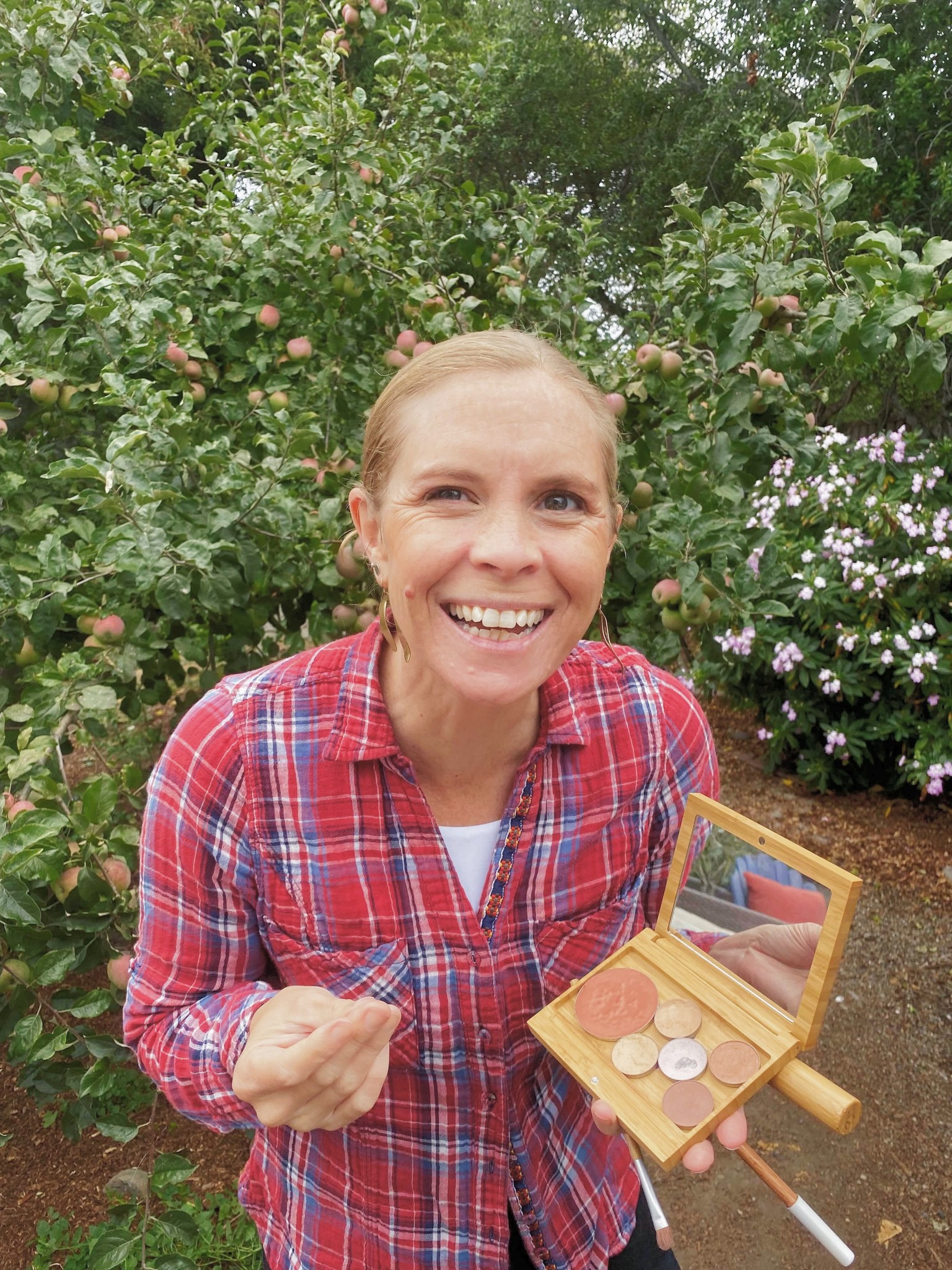 I'm up and running from the moment I get out of bed at the crack of dawn to the minute I lay down and crash at night. As a small business owner and parent of two, I am flying from one thing to the next, so I need a simple and effective makeup routine. My morning makeup routine takes me all of 5 whole minutes.
Prep
:
I always start with my Prep Primer to kind of bridge my skin care and makeup routines. It
plumps up and firms my skin while also leaving my skin feeling hydrated. Plus, it feels heavenly!
Concealer
: The Elate concealer is called "Cream Revealer" because it helps you
reveal
your best skin :) I find it really helps to
brighten my under eyes and even-out any small blemishes. Dabs on very easily just using my fingertip.
Foundation
: Then, if more coverage is in order, I grab the Uplift Foundation for a nice even color. I dig that it evens out my skin tone without feeling heavy or overdone.
Blush
: I LOVE the Universal Creams, because they have so many uses. They can be a blush, lip tint or eyeshadow for a little extra color. Bliss is my favorite. My daily go-to is to apply a small amount on my cheeks to just give a little natural hint of color.
Eyes
: My last step is eyes where I use color on the lids and some mascara to top it all off. The pressed eye colors are silky smooth and go on easily with my finger or the eye color brush. My go-to colors are Aerial, Beloved and Quintessence. Throw in a little of the Hearth eyeliner and then I finish off with my mascara. Voila!
•••
We're here to do the research so you don't have to. We only provide products we love and trust so that you can feel comfortable doing the same. Come by the shop if you're interested in sampling Elate products or need help finding the right foundation and colors that work best for you!